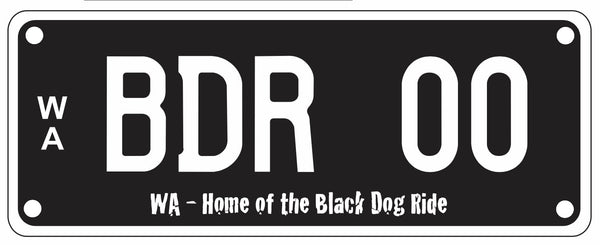 WA - BDR Limited Edition Number Plates
For the VERY FIRST TIME EVER, The WA Department of Transport, and the WA Police have agreed to issue special, limited-edition fundraising number plates for motorcycles. These limited edition number plates are available to pre-order now. 
Numbers plates already gone are:  01, 02, 03, 04, 05, 07, 09, 10, 13, 14, 15, 17, 18, 19, 20, 21, 22, 24, 32, 34, 42, 48, 50, 52, 53, 54, 59, 62, 64, 65, 67, 68, 69, 71, 77, 85, 87, 90, 99, 00.
Except for the above, the rest are available.
Please email office@blackdogride.org.au to purchase your WA - BDR Limited Edition Number Plate.
Please note the following information;
This series is available for motorcycles only.
There is only 1 plate in each set.
Each set costs $300, payable to Black Dog Ride. 
Plates are being ordered in the name of Black Dog Ride and will be transferred to the applicant via a Transfer of Right to Display Optional Plates (VL176) form.
A Transfer of Right to Display Optional Plates (VL176) will be provided to all applicants at the time they purchase their plates. Black Dog Ride is considered the seller of the number plate.
Plate purchasers are to present their completed form to Department of Transport at the time of plate collection.
A transfer fee of $98.20 will be payable by the plate owner upon collection.
Plate purchasers will be advised directly by the Department of Transport when the plate is ready for collection at the DVS Centre that you have designated during the checkout process.